Six inventive teams presented to a large crowd at this year's NMotion Accelerator's Demo Day on Tuesday night at the Rococo Theatre. Nearly 600 entrepreneurs, investors and mentors gathered to hear pitches from some of Lincoln's newest companies and other exciting announcements surrounding the startup community.
"We see this program and this event grow each year as more people are exposed to the power of startups," said Brian Ardinger, NMotion's managing director. "Today is the culmination of a gut-wrenching, hair-pulling experience."
Demo Day 2016 featured: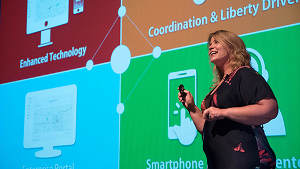 LeverageRx– an online marketplace for physicians and dentists to manage their finances after school
Gear Supply Co.– A dream box delivery service for guitar lovers
Fantasizr– A fantasy gaming platform that lets users play along with anything, not just sports
DivviMap– Software solutions for making drone mapping data more accessible
Anvilhead Studios– E-sports gaming engineering
Liberty– a public transit application that fills in the gaps public transportation can leave in rural areas
Not only were their 10-minute pitches met with overwhelmingly positive crowd response, but each team had something new to announce. Daniel Young of Fantasizr revealed a new partnership to be the exclusive fantasy platform for the long-running ABC show BattleBots. As a part of his presentation, Justin Kyser from DivviMap flew a drone from the balcony to the stage before announcing partnerships with four companies in Mexico, and their enterprise pipeline has grown to $400,000.
NMotion had much exciting news of its own. "We added four summer internships this year in collaboration with entrepreneurship programs at UNL," said NMotion Program Director Beth McKeon. "We found ways for the interns to get value from the program and for companies to get value from the help." Demand for valuable student internship experiences continues to increase, and NMotion has positioned itself perfectly to help nurture talent from an even earlier start.
Next up for NMotion and Lincoln's entrepreneurs will be Lincoln Startup Week: a five-day celebration in the community designed to build momentum and opportunity around entrepreneurship. This year Startup Week will be October 3-8, 2016.